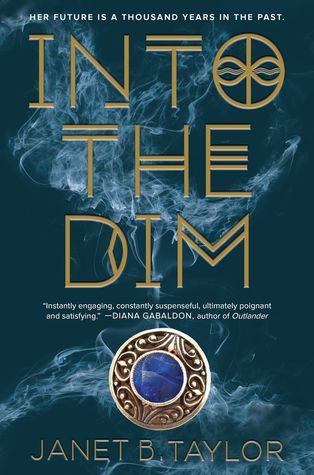 Into The Dim
by Janet B. Taylor
To Be Published on March 1st, 2016
Genres:
Historical Fiction, Fantasy, Mystery
*I've received an E-ARC from Netgalley and HMH Books For Young Readers in exchange for an honest review. Huge thanks to both!*
When fragile, sixteen-year-old Hope Walton loses her mom to an earthquake overseas, her secluded world crumbles. Agreeing to spend the summer in Scotland, Hope discovers that her mother was more than a brilliant academic, but also a member of a secret society of time travelers. Trapped in the twelfth century in the age of Eleanor of Aquitaine, Hope has seventy-two hours to rescue her mother and get back to their own time. Along the way, her path collides with that of a mysterious boy who could be vital to her mission . . . or the key to Hope's undoing. Addictive, romantic, and rich with historical detail,
Into the Dim
is an
Outlander
for teens.
One of my favorite things to read about in books is time travel. So, I was beyond excited when I heard about Into The Dim. Historical Fiction used to be my favorite genre, so it always feels especially amazing when I get to follow characters back into time. The blend of fantasy elements with historical fiction is just one of the most exciting things for me. Into the Dim made me feel like I too had traveled back in time. It sucked me back into the world of 12th century London and absorbed me into the story.
Into The Dim starts out as Hope Walton, our protagonist is mourning the death of her mother. Hope's mother supposedly died in an earthquake, though she thinks otherwise. Hope agrees to visit her aunt in Scotland and there she unravels a family secret that just may explain the truth of her mother's whereabouts. There she is thrust into a world of secret societies and time travel, as she learns that she must go back in time to save her mother who is trapped in the past. The premise of the book is what really hooked me and made me want to read Into The Dim. I was very intrigued by the idea of a book set in Scotland, and Hope having to go back in time to save her mother who is "trapped" in a different time.
As this book starts out, the reader is just as clueless as Hope in regards to how the whole time travel thing works in this world. Normally, I find myself racing through the beginning to get to the part where the protagonist finally discovers this whole legacy that she's a part of. However, I thought the book was engaging right from the beginning and really enjoyed how the author exposed all of the secrets to the protagonist.
At times, I felt like Hope stumbled across things a little too easily. Like, in the beginning, happening to stumble across the whole underground accidentally. And how in the world was it THAT easy to get an audience with the queen? Really? Does she help everyone find their wayward family members? And it was extremely convenient for Hope to have a photographic memory, though that's all explained nicely later.
Despite that, I really loved the characters of Into The Dim. I think Hope had just the right mix between hesitant and bold, which kept her from flinging herself into trouble too often. Not that it doesn't happen, because the other two characters travelling with Hope, Collum and Phoebe get in their fair share of trouble. I really like both Collum and Phoebe and enjoyed that we got to see a brother and sister time travelling duo. Collum is the strong, silent type, but at the same time, really does care deeply for everyone and completely freaks out when something goes wrong. Phoebe is awesome and I loved her vibrant personality and kick-butt skills. I really genuinely liked all of the characters, even those we didn't see much, like Lucinda, Moira, Mac, and Doug. Even the people they meet back in time, like Rachel, were really likeable characters and actually helped the protagonist instead of being in the way.
And, of course, the inevitable love interest. When Bran is first introduced, I wasn't interested at all. I was ready to cast him aside and tell Hope that she absolutely did not need to get tangled up with anyone. I was just mentally groaning at the introduction of this "normal" boy in the midst of her crazy life. The author really did a 180 on Bran and completely surprised me. I don't want to say too much, but I really love ambiguous characters and sometimes the ones that you aren't sure you can trust are the best. Bran popped up when you least expected and turned out to play more of a part than I thought he would. I really grew to love Bran and admired his loyalty in the decision he had to make in regards to his brother.
The secrets and mystery lingering really build up throughout the book, and leave you racing to get to the end. I wanted to know the truth, but at the same time, I also didn't want the book to end. I can say that I didn't predict the twist at the end of the book and was really surprised. I'm really glad that the author wove that extra little thread in there and how she kept hinting at something throughout. Into The Dim took a turn that I certainly didn't expect.
It was amazing travelling through time with Hope, Collum, and Phoebe. I loved every minute of Into The Dim, even despite the faults it may have had. At the end of the day, I read to go on adventures and to have fun, and Into The Dim turned out to be an adventure that I never wanted to end. If you like adventures through time, and want a book that you can just get lost in – I recommend Into The Dim 100%. It's my favorite time travel book that I've read so far and I'm eagerly anticipating the sequel. I had an absolute blast reading Into The Dim – and I hope you do too!