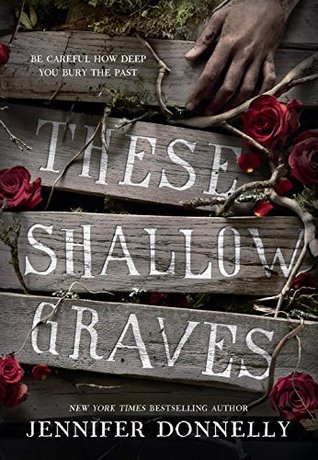 These Shallow Grave
by Jennifer Donnelly
Genres:
Historical Fiction, Mystery
Jo Montfort is beautiful and rich, and soon—like all the girls in her class—she'll graduate from finishing school and be married off to a wealthy bachelor. Which is the last thing she wants. Jo secretly dreams of becoming a writer—a newspaper reporter like the trailblazing Nellie Bly.

Wild aspirations aside, Jo's life seems perfect until tragedy strikes: her father is found dead. Charles Montfort accidentally shot himself while cleaning his revolver. One of New York City's wealthiest men, he owned a newspaper and was partner in a massive shipping firm, and Jo knows he was far too smart to clean a loaded gun.

The more Jo uncovers about her father's death, the more her suspicions grow. There are too many secrets. And they all seem to be buried in plain sight. Then she meets Eddie—a young, brash, infuriatingly handsome reporter at her father's newspaper—and it becomes all too clear how much she stands to lose if she keeps searching for the truth. Only now it might be too late to stop.

The past never stays buried forever. Life is dirtier than Jo Montfort could ever have imagined, and the truth is the dirtiest part of all.
These Shallow Graves was the perfect blend of historical fiction and mystery.
The main character, Josephine, gets thrown into a world of secrets when she begins investigating her father's death. She believes there's more to it than anyone's letting on. And so, through her determination and wit, she beings uncovering the truth about her father's death little by little.
I really loved Jo. This book takes place in 1890, and so in that time young women like Jo weren't supposed to be investigating and running around the city. Especially as Jo comes from a well-off family, what she is expected to focus on is her impending marriage to Bram Aldrich and producing heirs.
She had such a determined and spunky personality. Especially this being set in a different time period, her thinking was very forward to women of that day. Jo aspires to become a journalist and write about important issues – things that she feels are important and need to be heard about. She writes articles on things like "the abuse of girl laborers at Fenton's Textile Mill" and seeing as she's a woman, this is especially forward.
I really admired Jo – she comes across so many obstacles in her quest to find the truth. However, she doesn't give up, even when everyone is against her. The one thing she really wants is the one thing she can't have – independence. I enjoyed so much seeing Jo experience and learn things and especially loved her eager personality. She was always having to sneak out of her house and make up stories in order to be able to go anywhere by herself.
Jo allies with a reporter named Eddie, and together they begin an investigation into her father's death. Again, for this time period, a woman (especially of Jo's standing) would never be allowed to be alone with a man, especially someone like Eddie. I loved seeing her relationship with Eddie grow and change, and with Eddie, there's definitely more than meets the eye. Though previously, Jo had lived a sheltered life, she learns so much and really becomes street smart through her adventures. I loved the mystery in this book and was always on the edge of my seat. Just when you'd think that you figured things out there was another crazy twist.
Even though this is primarily a mystery book, the characters are faced with many other things that really make them relatable – and give These Shallow Graves a deeper quality. While in a different time period, Jo struggles with many things that are still relatable. She longs for independence and a career as a writer, though she knows that for someone like her, in that time, it isn't really possible. She develops feelings for Eddie, yet she knows that they can never really be together. Her family is pushing her towards marriage with someone else – who she's practically always known she'd marry. In that time, Marriage was about business, especially coming from a rich family, and Josephine didn't really have any control over that. Her family is rather unsupportive and always underestimate her. They won't talk to Jo about anything, thinking that she can't handle things because she's a woman. The thing that I love about Jo is that despite the challenges that she faces and the impossible situations, she never really gives up hope that somehow her dreams will come true.
Jo is a strong, independent woman, who's personality and forward thinking really belonged in a different time. I highly recommend These Shallow Graves for anyone who enjoys mystery, historical fiction, and a strong female protagonist. I really adored this book and definitely look forward to reading more things by Jennifer Donnelly in the future.