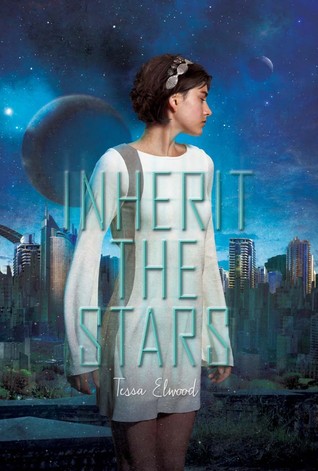 Inherit The Stars
by Tessa Elwood
To Be Published:
December 8th, 2015
*I've received an E-ARC from Netgalley in exchange for an honest review*
Three royal houses ruling three interplanetary systems are on the brink of collapse, and they must either ally together or tear each other apart in order for their people to survive.
Asa is the youngest daughter of the house of Fane, which has been fighting a devastating food and energy crisis for far too long. She thinks she can save her family's livelihood by posing as her oldest sister in an arranged marriage with Eagle, the heir to the throne of the house of Westlet. The appearance of her mother, a traitor who defected to the house of Galton, adds fuel to the fire, while Asa also tries to save her sister Wren's life . . . possibly from the hands of their own father.
But as Asa and Eagle forge a genuine bond, will secrets from the past and the urgent needs of their people in the present keep them divided?
Author Tessa Elwood's debut series is an epic romance at heart, set against a mine field of political machinations, space adventure, and deep-seeded family loyalties.
Inherit the Stars was different from what I thought it would be, but not in a bad way. I expected this action packed, space adventure. Instead, I was sucked in the middle of this futuristic world of feuding interplanetary systems. I felt like this book focused more on the political aspects of what was going on in their world, and I loved that. We get a glimpse into the different houses –especially Fane- and realize that their world is nowhere near stable.
I really liked the world in this book. I feel like it was different from other Sci-Fi books I'd read, and I liked that. The idea of these different "royal houses" ruling different systems was really cool and gave it a unique twist. Their system is in the middle of a horrible energy and food crisis, and the people are getting restless. As the smallest house, Asa and her family are fighting to keep their system afloat.
I loved her relationship with Eagle and how it changed throughout the book. Despite the strange circumstances, I think they really made it work. They're so cute together and I definitely ship them. The dynamics between all of the other characters were so complicated and politically influenced and I really liked that.
Once I started Inherit The Stars, I couldn't put it down. Something about it just completely drew me in and I ended up reading it in one sitting. I loved how unpredictable it was. With this book, I never knew what was going to happen next. It kept me on my toes and there were so many crazy twists and turns and drama. I could seriously never guess what was going to happen next. Every time I thought I knew what was going on, something completely unexpected happened.
I will say that this book wasn't perfect. Some things could have been better explained, or fleshed out. There were times when I was confused and had to read a chapter over again. I found the writing a little bit strange at times. I didn't feel like I knew the characters as much as I'd have liked, and the world definitely could have been more fleshed out.
But, despite all of that there was something that really made me like this book. Even with all of its' imperfections, In Inherit the Stars, I saw the beginning of a series that has great potential. There is room for improvement in various areas, but through it all I saw a series with the potential to become really great.
There's so much potential for more character development and world building in this series and I hope we'll get to see more of that in the sequel.
I'd love to see this series and these characters reach their full potential.
I'll definitely be picking the next one up to follow these characters and see what happens next in this crazy world.
Tessa Elwood has created great characters, a unique and interesting world and such complicated character dynamics.
All she needs to do is build on those things and develop them more fully.
I was sucked in by the story and plot and she has the ability to create such great twist and turns.
I would definitely recommend picking up Inherit the Stars, and I look forward to this series only getting better.
Have you read Inherit The Stars? What were your thoughts? Are you planning on picking this one up?