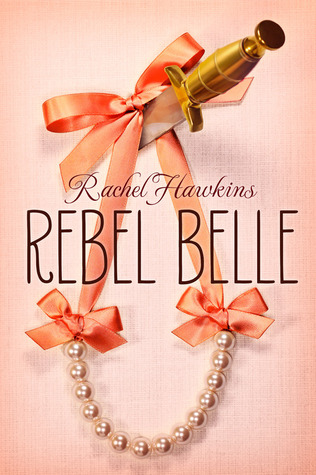 Rebel Belle
by Rachel Hawkins
Genres:
Fantasy, Contemporary, Mythology
Format:
Hardcover
What is Rebel Belle about?
Harper Price, peerless Southern belle, was born ready for a Homecoming tiara. But after a strange run-in at the dance imbues her with incredible abilities, Harper's destiny takes a turn for the seriously weird. She becomes a Paladin, one of an ancient line of guardians with agility, super strength and lethal fighting instincts.
Just when life can't get any more disastrously crazy, Harper finds out who she's charged to protect: David Stark, school reporter, subject of a mysterious prophecy and possibly Harper's least favorite person. But things get complicated when Harper starts falling for him—and discovers that David's own fate could very well be to destroy Earth.
With snappy banter, cotillion dresses, non-stop action and a touch of magic, this new young adult series from bestseller Rachel Hawkins is going to make y'all beg for more.
Let's talk about the main character, Harper.
She takes a bit to warm up to. She really is southern belle and she'd be the last person you would guess to end up being part of this ancient society of warriors. She really is so spunky and full of personality, though, which is one of the things I liked about her. Never a dull moment. (The whole time, I was picturing her as Lemon Breeland from Hart of Dixie. Anyone agree?)
Her sass and spunk really help her out in this situation.
I have so much respect and admiration for Harper, though. She has this terrifying thing thrown upon her. She knows nothing about it. She never asked for it to happen. It will change her life forever. And really, it's not fair to her. But she takes this all in stride and doesn't completely freak out. She keeps cool. She thinks "wow. I can pretty much kick anyone's butt now. That's pretty cool." Instead of "EWWW I hate fighting this is disgusting!"
Along with this power comes an obligation that she has now for the rest of her life.
And that's not an easy thing. Especially when you have a future of your own that doesn't include just following some guy around to protect him.
I really loved the story and the mythology aspect of this book.
I can't say much without spoiling, but I thought it was really cool and it was something I'd never heard of before. It was SO DIFFERENT from all of the other Fantasy books I've read, and I really loved that.
Harper and David.
Their relationship was really interesting. I thought it was funny how they were pretty much enemies and then she ends up having to protect him. I really enjoyed their banter and I think they really work well together. I ship it!
Harper's boyfriend Ryan, however, Is a different story
. I didn't really like him from the beginning. He just didn't have much personality and I didn't like him. I thought Harper could do better. And especially as the book goes on and Harper begins to grow and change, she's not that girl who is always thinking about clothes or makeup or how something is going to look on her college application. Her personality really changes, and I think Ryan just didn't fit with that. However, with the development at the end of the book, things should definitely get interesting.
Overall, I really enjoyed Rebel Belle. I loved the spunky, sassy, southern bell MC, Harper. It was great getting to see her grow and change, and her character development was great. I liked the fantasy, the mythology, the fighting, and the action. There were many twists and turns and shocking things that happen throughout this book, and it definitely kept me on the edge of my seat. If this sounds like something you might like, I highly recommend it.
Have you read Rebel Belle? Are there any other books similar to this that I should check out? Do you like reading books set in the south?