This is a review I had written a while ago, but I never posted it. So, since I'm currently on vacation, I thought now was the perfect time, since I won't have my computer with me. I have a couple of posts scheduled to go up this week, but I might be MIA until the end of the week.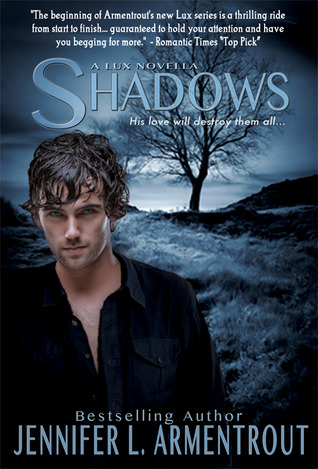 Shadows (A Lux Novella) by Jennifer L. Armentrout
The last thing Dawson Black expected was Bethany Williams. As a Luxen, an alien life form on Earth, human girls are…well, fun. But since the Luxen have to keep their true identities a secret, falling for one would be insane.

Dangerous. Tempting. Undeniable.

Bethany can't deny the immediate connection between her and Dawson. And even though boys aren't a complication she wants, she can't stay away from him. Still, whenever they lock eyes, she's drawn in.

Captivated. Lured. Loved.

Dawson is keeping a secret that will change her existence...and put her life in jeopardy. But even he can't stop risking everything for one human girl. Or from a fate that is as unavoidable as love itself.
I was very excited going into Shadows, because I've always wanted to know more about Bethany and Dawson's story. Shadows is a prequel novella that tells the story of Dawson and Bethany from the first time they meet, until the fateful day when they leave and are never seen again.
It was very interesting to see Dawson's POV and get to know him more. In the Lux books, you never really get to know him all that well. Besides the fact that he was quite different in Shadows than I remember him being in the Lux series. Dawson and Bethany's story was quite different than Katy and Daemon's. At times, this felt like a cutesy contemporary love story. Both Bethany and Dawson are so sweet and they fall for each other pretty quickly. That is probably the only problem I had with Shadows - it felt a little insta-lovey at times. However, I really did feel that same love between them that I feel when I'm reading about Daemon and Katy. It was really beautiful to see firsthand.
After reading Shadows, I have much better understanding of Dawson and Bethany. This novella really made me form a connection with Bethany and Dawson, more than I was able to in the series. I LOVED Bethany in this novella, while in the Lux series, I wasn't really too crazy about her. Not only them, but Daemon, too. Seeing Daemon and Dee at the end of this book broke my heart. It really helped me to understand why Daemon was such an ass towards Katy in the first book. It felt like a missing piece of the puzzle, and seeing this "backstory" really helped me to understand the whole story better.
Overall, I think this is a great novella that anyone who is a fan of the Lux series should definitely read.
I am really glad that I read this novella. It helped me get to know Bethany better, and appreciate Dawson and Bethany's story. For anyone who has read and loved the Lux series, this is definitely a must read.
Have you read the Lux series? What did you think of Shadows? What are your feelings on Dawson and Bethany?