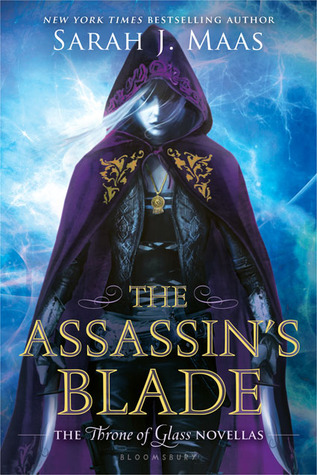 The Assassins Blade
by Sarah J. Maas
What is The Assassins Blade about?
Celaena Sardothien is Adarlan's most feared assassin. As part of the Assassin's Guild, her allegiance is to her master, Arobynn Hamel, yet Celaena listens to no one and trusts only her fellow killer-for-hire, Sam.
In these action-packed novellas - together in one edition for the first time - Celaena embarks on five daring missions. They take her from remote islands to hostile deserts, where she fights to liberate slaves and seeks to avenge the tyrannous. But she is acting against Arobynn's orders and could suffer an unimaginable punishment for such treachery. Will Celaena ever be truly free? Explore the dark underworld of this kick-ass heroine to find out.
I really like prequels and was so excited to get a glimpse at the "old" Celaena.
I've always wanted see Celaena before the betrayal and her time in the salt mines. When we meet Celeana in Throne of Glass, she is almost a shadow of who she used to be. She's not the cutthroat assassin she was. I was so thrilled to read this book to see what Celaena, "Adarlan's Assassin" was like before all of the horrible things she went through.
I loved every single minute of The Assassins Blade.
It was great to immerse myself in Sarah J. Maas's wonderful writing and to spend time with Celaena again. It was a blast to follow Celaena on her missions for Arobynn and to see her at work. We get to explore many new places and learn more things about the world in Throne of Glass.
And before this novel, I never realized how restrictive, controlling, and just cruel Arobynn truly was.
He did a lot for Celaena, but at the same time, he uses that against her to make sure she that she will always be in debt to him. The farther I got into this book, the more I hated Arobynn.
I have to say, probably my favorite novella of this whole collection was "The Assassin and The Desert".
Which is strange, because this one didn't have Sam in it at all. It was good for Celaena to get away from the Assassins Guild and away from Arobynn. It was great to see her work with the Mute Master and see how differently he treated her and the rest of his students vs. how Arobynn treats people. He was patient and understanding and really did have a good heart. And the Mute Master's group, the Silent Assassins, are known for being the best. It just really impacted Celaena, I think, to see that you don't need to be harsh, cruel, or controlling in order to teach those things. Nor should you. I think it really made her see how messed up things were with Arobynn and that things needed to change. I just really loved The Mute Master. So many wise words of wisdom and quoteable parts.
But, what really made me fall in love with this book was Sam.
I LOVED Sam and Celaena's relationship so much. I've always been a Chaol/Celaena shipper from the very beginning. However, when I first started this book I knew it was going to be rough because I knew I'd love Sam. I just had no idea how much I'd grow to love him. Coming from a huge Chaolaena shipper, I loved Sam and Celaena even more. Just as I feared I would, since I knew what happens to Sam. After this, I don't know if I can see anyone else with Celaena except for Sam.
I loved Sam's personality and felt like they understood each other because of them both being assassins.
I LOVE "hate-to-love" romances and Sam and Celaena's was so adorable and one I could get behind 100%. Sam, despite his occupation, is such a sweet guy and cared for Celaena so much. Their mission in "The Assassin and The Pirate Lord" really brought them together and getting to see them grow closer just made me so happy. Now, what happened after that mission, and Sam's reaction was heartbreaking but also important. I loved it, yet I hated it, you know?
I was pretty much holding my breath throughout the last two novellas.
It was amazing to see Celaena taking control of her life, and gaining her freedom. It was absolutely incredible to see Sam and Celaena together and to observe how much they love each other. But, at the same time, I knew what it was leading up to. And when it finally happened, I was devastated. Sarah J. Maas has done it again. I absolutely fell in love with Sam and I wasn't ready to let go of Sam and Celaena. It broke my heart completely.
All in all, this had everything I've come to expect from a Throne of Glass book.

Celaena and her trademark snark, great world and character building, and an amazing guy who I absolutely fell in love with. I don't know how I'll go about shipping anyone else with Celaena except for Sam. They just belong together and that's that. This was a wonderful look into Celaena's life before and provides a much needed look at what she went through. It helps you to understand her mental state going into Throne of Glass. If you're a fan of the Throne Of Glass series, this is definitely a must read.
Have you read the Throne of Glass series? Have you read The Assassins Blade? What were your thoughts? Are you team Chaol or Dorian? Or did you like Sam better? Did this book make you cry? Thoughts please!