Please note that this is the second book in the To All The Boys I've Loved Before duology, and thus the synopsis/my review may have spoilers.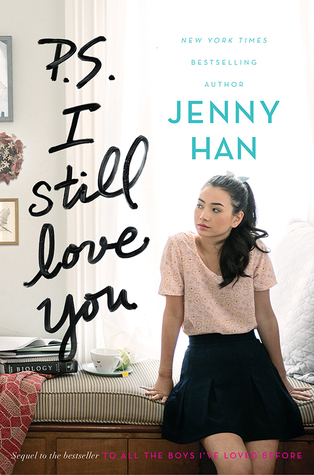 P.S. I Still Love You
by Jenny Han
What is P.S. I Still Love You about?
Lara Jean didn't expect to really fall for Peter.
She and Peter were just pretending. Except suddenly they weren't. Now Lara Jean is more confused than ever.
When another boy from her past returns to her life, Lara Jean's feelings for him return too. Can a girl be in love with two boys at once?
In this charming and heartfelt sequel to the New York Times bestseller To All the Boys I've Loved Before, we see first love through the eyes of the unforgettable Lara Jean. Love is never easy, but maybe that's part of what makes it so amazing.
P.S. I Still Love You
continues on with Lara Jean and her seemingly endless love problems.

I still found this to be a cute and enjoyable sequel, even if I didn't enjoy it as much as the first one.
I think what really rubbed me the wrong way in this one is I feel like there's less Peter.

Less cute interactions between him and Kitty. Throughout this book, Lara Jean is trying to figure out her real feelings for Peter and how she feels about Peter and Genevieve.
The one thing I absolutely hate about series is when the protagonist finds the right guy, but for the sake of stretching out the story and causing conflict, problems arise.

I don't like it when the protagonist wavers and spends time wondering what to do, when the guy for her is right in front of her. I don't like indecision in protagonists, especially when it comes to choosing between guys. If it's that hard of a choice, you don't like either of them that much.
In this book, Lara Jean starts spending time with John, when he contacts her after receiving the last missing letter.

I thought John was actually a really nice guy and I enjoyed reading about the together sometimes. But nothing is quite the same as Peter.
And the thing I didn't really like was that neither Lara Jean or Peter really reached out to the other person during this time.

I didn't really like that Peter didn't at least come back and apologize, even if it wasn't really his fault. But at the same time, Lara Jean didn't either, so I don't really know what to think of it. I just really don't think the situation was handled well.
I don't really side with either of them.

I don't like that Peter is always going to see Genevieve and sometimes it did seem like she mattered more than Lara Jean. But, at the same time, I understand that she was going through a rough time and Peter was one of her only friends. I just don't see why it had to be a big deal or why Peter couldn't just be outright about it. And the fact that he found out about Genevieve sending the video and didn't really care kind of bothered me. But, at the same time, Lara Jean was kind of obsessive about the whole Genevieve issue. If they could have just talked about it without Lara Jean getting all worked up, it might have been better. Besides the fact that she thinks it's fine to hang out with Josh (1st book) and John (this book) and Peter isn't supposed to care. It's kind of a double standard. Both of these characters had (and still have) a lot of lessons to learn and things to work on.
Despite this, I still liked this one.

Lara Jean is adorable and I always enjoy reading about her. I liked it when they got together and got the time capsule. I l loved how Lara Jean went to one of his games and cheered him on like all of the other players girlfriends. I loved how Peter would still pick Kitty up for school, even when him and Lara Jean weren't talking. And the fact that that Peter and Lara Jean work their problems out and we get our happy ending made it worth it.
Don't get me wrong, I really liked P.S. I Still Love You. It was great to revisit Lara Jean and Peter and Kitty. I loved how we ended up getting out happy ending, even if the road was long and tumultuous. Overall, I loved this duology and I would highly recommend it for any fans of YA contemporary. This had become one of my favorite contemporary series and I'm sure I'll be rereading both of these books in the future.
Have you read this duology? What did you think? Did it end the way you wanted it to?