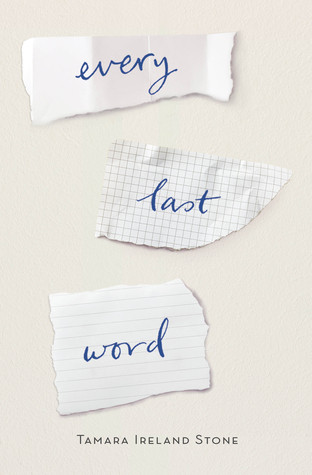 Every Last Word
by Tamara Ireland Stone
What is Every Last Word about?
If you could read my mind, you wouldn't be smiling.
Samantha McAllister looks just like the rest of the popular girls in her junior class. But hidden beneath the straightened hair and expertly applied makeup is a secret that her friends would never understand: Sam has Purely-Obsessional OCD and is consumed by a stream of dark thoughts and worries that she can't turn off.
Second-guessing every move, thought, and word makes daily life a struggle, and it doesn't help that her lifelong friends will turn toxic at the first sign of a wrong outfit, wrong lunch, or wrong crush. Yet Sam knows she'd be truly crazy to leave the protection of the most popular girls in school. So when Sam meets Caroline, she has to keep her new friend with a refreshing sense of humor and no style a secret, right up there with Sam's weekly visits to her psychiatrist.
Caroline introduces Sam to Poet's Corner, a hidden room and a tight-knit group of misfits who have been ignored by the school at large. Sam is drawn to them immediately, especially a guitar-playing guy with a talent for verse, and starts to discover a whole new side of herself. Slowly, she begins to feel more "normal" than she ever has as part of the popular crowd . . . until she finds a new reason to question her sanity and all she holds dear.
There were so many things that I loved about this book, that I'm not sure where to start.
First of all, the main character, Sam. Sam has Purely-Obsessional OCD and has dealt with this for quite a while. Sam is the kind of character you just want to give a huge hug. She struggles with this throughout the book and you just want things to work out for her.
In her school, Sam is known as "Samantha" and is part of the popular crowd.
Her and her group of friends have been friends for years, but not one of them knows about her OCD. It became more of a burden and she felt like she had to put on some kind of façade when she was around them. Like she couldn't be herself. And it was suffocating. I didn't like her friends one bit and I feel like she would have been better without them.
When Sam is introduced to Poet's Corner, it changes her life.
She meets a bunch of people who understand her and treat her like a regular person no matter what. Who all have issues – because, let's face it, who doesn't?- and support each other. I loved each and every person in Poet's Corner and it felt like such an incredible place. The big thing of poet's corner is that no one judges anyone else. It's about acceptance and understanding. And one major rule is that no one –especially yourself- is allowed to say anything negative about your poems. It's only ever positive and upbuilding.
I loved getting a glimpse into mental illness, particularly, Purely-Obsessional OCD.
I don't know much about mental illness. So, it was great to be able to become more familiar with it and to understand what it is. I feel like the majority of people –myself included- don't really know much about these kinds of things. And really, it's not hard. And for that aspect I think everyone should read this book.
What I found really sad about it was that she felt like she needed to hide it
. She almost had two personalities her "summer" her, Sam, and the person who she felt like she needed to be with her friends and at school, Samantha. She was so afraid to be that person –to be herself- around the people she'd known the longest. She felt like she couldn't tell people because she didn't want to be treated or viewed any differently than anyone else. That people would even treat her differently because of something like that shocks and saddens me. Sam is Sam and people should accept her for who she is.
What was great about the characters in this book is that each and every one of them was so relatable.
I loved Sam and even though I couldn't relate directly to her exact situation, overall, I felt like I could connect to her and that's one of the biggest parts of a book, in my opinion. I just loved her so much and just wanted to befriend her and tell her that she is a great person, no matter what anyone else says. I also loved Caroline, who introduces Sam to poet's corner. I loved how she was able to do that for Sam and that she was able to help Sam to be herself and bring out these great qualities that Sam didn't think she had. I also loved AJ. It took a while for him to come around, but he really cares about Sam. Sam went through some tough times in this book, but AJ was there for her. I loved their relationship. And shout out to everyone else in poet's corner. Anytime anyone in poet's corner was going through a tough time, everyone was always there for them. This made me so much want to be in Poet's Corner, even if it's not a real place and I'm not a poet.
I loved getting to see Sam grow and change for the better t
hroughout this book.
I was rooting for her when she fought against her OCD and didn't do something she always did. I was rooting for her as she began to practice more at her swimming, and I loved seeing how happy it made her. I was rooting for her when she finally stood up to her old friends and didn't just go along with whatever they said. I was rooting for her when she would really open up to her therapist.
I also loved the theme of "your words matter" that was highlighted in Every Last Word.
I think that's important because out words DO matter. We are important and we deserve to be heard. To be heard by people who understand and appreciate us for who we are. And that we should never feel like we don't matter. And to find people who make us feel like we DO matter and that we ARE important.
I loved this book so much
. Every Last Word by Tamara Ireland Stone is an amazing and incredible book that everyone should read. Not only does it shed light on mental illness, but has a strong, important message that I think everyone needs to take to heart. This book completely blew me away and I think that it was such an impactful and important story. There were so many things I love about this book that I can't even begin to cover them all. This was a book that really spoke to me. So, give it a chance to speak to you too, and pick this one up.
I loved this book so much. What did you think? Do you feel like it realistically portrayed mental illness, particularly Purely-Obsessional OCD? And if you haven't read it, are you planning on picking it up?