This week was kind of slow for me in terms of reading and blogging.
However, this was my LAST week of school. Seriously. I'm absolutely DONE now. SO, I am very excited to have more time for reading and blogging.
So, summer is officially starting for me. I'll be away at a concert this weekend, but hopefully I'll be able to get some reading done and work on a review.
What happened on the blog this week?
Last week, I talked about how I wished YA had more variety in settings. This week I recommended some really great books that I've read set in different places in Europe.
This was the most fun Top Ten Tuesday I've done in a long time. It was great to get to share and fangirl over all of the wonderful books releasing later this year. This was just the Sci-Fi and Fantasy ones, though, so I think I'll be doing a part two next week.
This week, I featured A Night Divided by Jennifer A. Nielsen. A Night Divided is a historical fiction novel set during the rise of the Berlin wall.
This was a super cute series that I've been wanting to read for a while. I was pleasantly surprised and really enjoyed both of these books!
What new books did I get this week?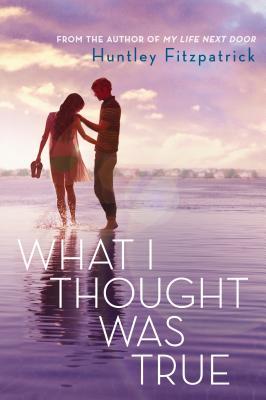 What I Thought Was True by
Huntley Fitzpatrick
I forgot I bought this book. I must have been really early this week. Anyway, I had previously read The Boy Next Door by Huntley Fitzpatrick and honestly, didn't really like it. It just felt like there was something missing. However, this book looks pretty good and I decided to give Huntley Fitzpatrick a try again.
What books did I read this week?
I only read two books this week. Not as much as I'd hoped, but this was my LAST week of school! So after this, only reading and blogging!
UPDATE: I just finished a book, so i'm adding it even though I had already posted my wrap-up
So, I read three books this week. Not too bad.
I continued on with this series and loved Off The Page. To hear more of my thoughts, check out my review.
I've wanted to read Vanishing Girls for a while now. I did enjoy it, and it was different from what I thought it would be, but it didn't really blow me away. Hopefully, review for this one next week.




Gone Too Far by Natalie D. Richards

This is the second book i've read by Natalie Richards and I liked it even more than the first. She writes such good YA mystery/thriller books, and as a fan of that genre, I don't think there is enough mystery books in YA. If you are a fan of mysteries or thrillers, definitely check this one out!




This week was a little slow, but I'm hoping my reading and blogging should pick up next week. How did you do?