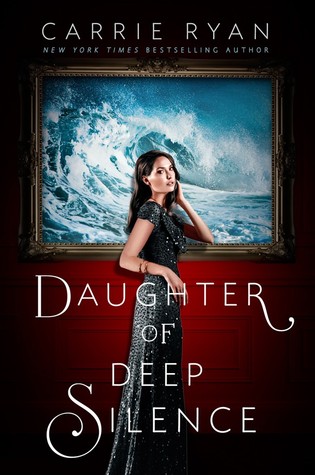 Daughter of Deep Silence
by Carrie Ryan
Genres:
Thriller, Mystery
What is Daughter of Deep Silence about?
I'm the daughter of murdered parents.

I'm the friend of a dead girl.
I'm the lover of my enemy.
And I will have my revenge.

In the wake of the devastating destruction of the luxury yacht

Persephone, just three souls remain to tell its story—and two of them are lying. Only Frances Mace knows the terrifying truth, and she'll stop at nothing to avenge the murders of everyone she held dear. Even if it means taking down the boy she loves and possibly losing herself in the process.

Sharp and incisive,

Daughter of Deep Silence

by bestselling author Carrie Ryan is a deliciously smart revenge thriller that examines perceptions of identity, love, and the lengths to which one girl is willing to go when she thinks she has nothing to lose.
I really appreciated the mystery/thriller aspect of Daughter of Deep Silence.
I love both mysteries and thrillers, so I was very excited to read this one. I loved the idea of "three souls remain to tell its story—and two of them are lying". That was what initially drew me to this book. I liked the premise of this disaster on the Persephone and then getting to see the flashbacks was cool. I appreciated getting to see what really happened versus what the other two people were saying was happening.
A big theme in this book was revenge.
I was looking forward to reading an intense book about revenge. And in the beginning, the MC, Frances, is determined to get her revenge. For her family, for her best friend, and for all of the other innocent people who died that night. However, as the story progressed I feel like gradually it became less about revenge. The things that were happening in the story made you step back and wonder whether it was really worth it anymore. And will hurting more people and devoting your life to revenge really pay for what happened that night? These are some of the things that the MC, Frances faces.
This book made you really think about whether this revenge that you wanted Frances to have was really worth it.
Grey and his dad the senator are the two other survivors and the intended recipients of said revenge plot. But once Frances
gets closer to them, she (and the reader) realizes that it may not be so black and white.
I really liked the characters in Daughter of Deep Silence.

I felt for the Frances. She experienced something horrible and tragic and had the people she cared about taken away from her all in the blink of an eye. What she experienced is something that nobody should have to go thorugh. And after that, she's not the same. She has a hard time moving on from that and pretty much devotes the next four years of her life focusing on this and as you can imagine, it's not very healthy. Another character that I really liked was Sheperd, but for the sake of spoilers, I can't say too much about him.
I liked getting to see Frances' relationship with Grey grow and change.
Even if parts of it are all in her plan, there is one thing she didn't count on. And that's starting to care for Grey and realizing that there may be a more complicated explanation for his lies. I actually really grew to like Grey and felt bad for him because his dad, the senator, was so controlling in everything Grey did. I wished, as Grey pro
bably did, that he could have just had a normal dad and a normal life.
There were several really intense parts of this book that I really enjoyed
. And you thought that Frances wasn't getting out of that situation. But, for the most part, it was just interesting to see Frances carry on with this intricate plan for revenge. Sometimes, though, it got a little tiring because it felt a little monotonous. The settings were almost always the same and that got a little boring at times.
Overall, I really did enjoy this one.

There were moments of action and times when you thought for sure the MC was really in danger. I enjoyed getting to see this disaster happen and Frances' mental state after and how she dealt with that. This was an amazing story with a satisfying ending, and I'd recommend this to anyone who enjoys mysteries and thrillers.
Have you read Daughter of Deep Silence? What did you think? Let me know!