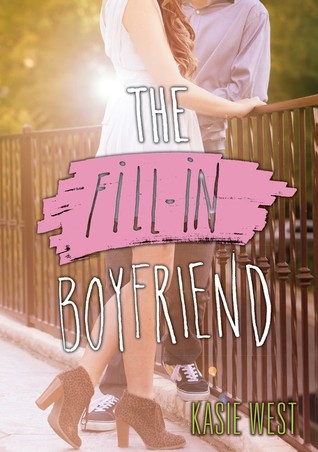 The Fill-In Boyfriend
by Kasie West
What is The Fill-In Boyfriend about?
When Gia Montgomery's boyfriend, Bradley, dumps her in the parking lot of her high school prom, she has to think fast. After all, she'd been telling her friends about him for months now. This was supposed to be the night she proved he existed. So when she sees a cute guy waiting to pick up his sister, she enlists his help. The task is simple: be her fill-in boyfriend—two hours, zero commitment, a few white lies. After that, she can win back the real Bradley.
The problem is that days after prom, it's not the real Bradley she's thinking about, but the stand-in. The one whose name she doesn't even know. But tracking him down doesn't mean they're done faking a relationship. Gia owes him a favor and his sister intends to see that he collects: his ex-girlfriend's graduation party—three hours, zero commitment, a few white lies.
Just when Gia begins to wonder if she could turn her fake boyfriend into a real one, Bradley comes waltzing back into her life, exposing her lie, and threatening to destroy her friendships and her new-found relationship.
What first drew me in was the plot.
I read the synopsis and knew that I had to read this book. I thought it sounded so cute and I wanted to read it immediately. It was just as adorable as expected. I thought the idea of a "fill-in boyfriend" was such a fun concept, and it was a blast to read about Gia and her "fill-in".
We leave off where Gia has just been dumped by her boyfriend Bradley – in the parking lot of her school right before prom. It's a horrible, inconsiderate way to break up with someone. However, Gia persuades someone to "fill-in" as Bradley so that she doesn't have to go without a date.
I liked how much Gia changes throughout the book.
In the beginning, she pretty shallow and is very much concerned with what other people think of her. She always is thinking of what her friends will think and doesn't really hang out with anyone outside of her "popular" group. I loved getting to see Gia's character develop throughout the book. Little by little you can see these changes in Gia and you root for her to realize that she needs to be her own person. She doesn't have to go along with the popular crowd. She needs to do what makes her happy and not worry so much about what everyone else thinks. I really liked the way this was done. There were times where she relapsed, and it wasn't like one day she woke up and had a grand revelation and changed everything. It was gradual, and it wasn't easy for her. But, I liked that because it was realistic. Nobody is going to change overnight.
I absolutely loved the characters in this book.
Gia's "fill-in boyfriend" and his sister, Bec were awesome. Fill-In Bradley was adorable and perfect and all kinds of cute. I loved getting to see them grow closer and get to know each other better through their "fill-in" dates. I love love loved the friendship that developed between Gia and Bec. Bec was very much outside of Gia's normal social circle and they seem like complete opposites. Neither of them liked each other at first, but gradually, they came together and their friendship was fun to see grow. I think Bec really helped Gia to grow and change for the better. I always love to see books that feature friendships and not just the usual romance angle.



I also really liked that Bec and Fill-In Bradley helped Gia to be able to show her emotions.

Gia's family is kind of messed up. Her parents always bury their emotions and don't let anything show so as to appear as the "perfect" family. Gia had lived with this her entire life, so she didn't really know how to show her emotions or have anyone to really talk to. I liked how Bec and Fill-In Bradley helped her to understand that it was okay to feel angry and that she was able to open up to them. (I loved the scenes where they went over to Will's and threw the baseballs.) And eventually, Gia is able to express her opinions to her parents and hopefully it started a little bit on its way to changing things for Gia's family.
At the beginning of the book, Gia started out as not so great a person.
She ends up lying to her friends about who Fill-In Bradley really is and gets caught up in her own web of lies. However, I loved being able to see her change little by little. Gia needed Fill-In Bradley and Bec more than she realized and they helped her become a better person. I loved that this book featured friendship and tackled important issues, while also featuring an adorable romance. This book is written in true Kasie West style, and was a quick, yet very hard to put down read. I definitely recommend this to any fans of Kasie West, or to anyone who wants to give Kasie West a try- this is a great place to start!
Have you read The Fill-In Boyfriend? What were your thoughts? What is your favorite Kasie West book?