Today I'm reviewing Vanishing Girls by Lauren Oliver.

This was my first Lauren Oliver book, and pretty enjoyable overall.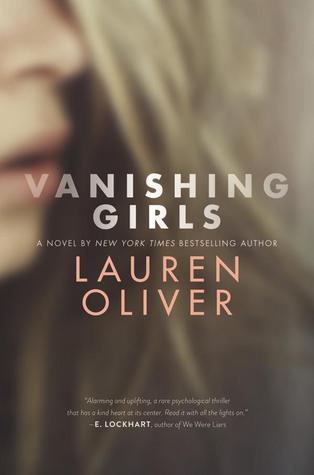 Vanishing Girls
by Lauren Oliver
What is Vanishing Girls about?
New York Times
bestselling author Lauren Oliver delivers a gripping story about two sisters inexorably altered by a terrible accident.

Dara and Nick used to be inseparable, but that was before the accident that left Dara's beautiful face scarred and the two sisters totally estranged. When Dara vanishes on her birthday, Nick thinks Dara is just playing around. But another girl, nine-year-old Madeline Snow, has vanished, too, and Nick becomes increasingly convinced that the two disappearances are linked. Now Nick has to find her sister, before it's too late.

In this edgy and compelling novel, Lauren Oliver creates a world of intrigue, loss, and suspicion as two sisters search to find themselves, and each other.

"Alarming and uplifting, a rare psychological thriller that has a kind heart at its center. Read it with all the lights on." -- E. Lockhart, author of We Were Liars.
Wow. Honestly, I'm not really sure how to review this one. Going into Vanishing Girls, I didn't really know what to expect. This was the first Lauren Oliver book I'd read. And while I did really enjoy Vanishing Girls, it felt like it lacked something.
Vanishing Girls is about Nick and Dara, two sisters who were in a terrible car accident. And when Dara suddenly goes missing, Nick sets out to figure out what happened to her.
I really liked that two sisters were the main focus of this book, even if it seemed like their relationship might not have been very good. I love books that feature or focus on siblings, so that was a plus. I wish we could have seen more of them pre-accident, because that probably would have been very different. I'm not really sure where things went wrong for me in this book. I think part of it might have been that while I liked Dara and Nick, I couldn't really connect or relate to them. And when that happens, it very much affects what I think of the book and my overall reading experience.
I loved the mystery aspect of Vanishing Girls. I loved getting to watch Nick connect the dots and uncover more about what Dara was involved in. And on top of it, also possibly uncovering things about the other girl that went missing, Madeline.
I feel like there's not a whole lot that I can say about this book without spoiling it. This was most definitely a psychological thriller, which I was not expecting. I did not see the plot twist coming at all and pretty much just sat there in shock. All I can say is, a blurb from E. Lockhart? Really? I should have known.
The plot of Vanishing Girls was interesting and kept me wanting to read more to figure out what happened to these girls. I also did like the characters Dara and Nick, though I felt like I didn't really get to know them because the Dara and Nick in this story and very much changed from how they used to be. Overall, I enjoyed this psychological thriller and a glimpse into the lives of these two sisters. Although, I just don't feel like I was blown away by it.
Have you read Vanishing Girls? What were your thoughts? Should I give another Lauren Oliver book a try?