This week was a great reading week for me!
I read TWO amazing, incredible five star books.
I was able to keep up with my blog this week and I posted something everyday, which is great.
I'm going away on vacation next Saturday, though, and I'll be gone for a week. Most likely, I'm just going to take a break from my blog and I'll be back in a week. But we'll see, it depends on if I have time to write a couple of reviews ahead of time.
What happened on the blog this week?


I've wanted to read this book for a year now, and I'm so glad that I finally got around to it. I really loved this one and It's become one of my favorite contemporary books.
This week I went a little off the schedule and instead of doing the assigned TTT topic, I continued the TTT from a couple of weeks ago and did part 2 of my upcoming releases. This was super fun and I'm glad I got to feature some of my non-fantasy anticipated releases.
This week, I featured Rebel Mechanics by Shanna Swendson. This is one I'm really looking forward to it's a steampunk alternate history book with spies which just sounds like pure awesomeness.
I reviewed the second and final part of the To All The Boys I've Loved Before Duology. Such an amazing series!
This was a mystery/thriller with a great revenge story. I really enjoyed this one and would definitely recommend it to any fans of mystery/thrillers.
THIS BOOK. THIS BOOK. It was amazing and incredible and I can't recommend this enough. Please check it out – it's a must read!
What new books did I get this week?
I'd seen good reviews for this one and had my eye on it for a while. I ended up reading and reviewing this one right away, which doesn't always happen. Check out my review for more info!
I am SO GLAD that I picked up this book. It was amazing and I just want to get EVERYONE to read it. See my review for more details on this wonderful book!
I ended up at the bookstore with no idea what to buy. And I remembered that EVERYONE has been saying how incredible this book is. I decided I wanted to pick it up and see for myself. And I'm glad I did! More to come in a review next week!
I haven't heard too much about this one and decided to pick this one up on a whim because it just sounded so cute! Have you read this one? What did you think?
What books did I read this week?
This week started out amazing, reading – wise. But, it slowed down towards the end somehow. I'm currently in the middle of two pretty big books, though, so I made progress in Heir of Fire by Sarah J. Maas and No Where But Here by Katie Mcgarry.
I enjoyed this one. Check out my review for more details!















Every Last Word by Tamara Ireland Stone
This book was so amazing! I can't even begin to explain everything I loved about this book, so see my review for more thoughts!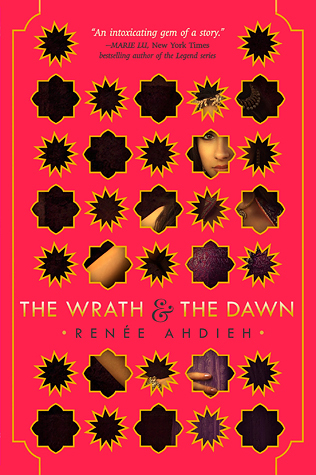 The Wrath and The Dawn by Renee Ahdieh
I'm SO INCREDIBLY GRATEFUL that I read so many amazing reviews and I finally picked this one up. This was one of the most wonderful books I've read in a long long time. Review soon to come!




How did your week go?
Are you planning on reading or have you read any of these books?